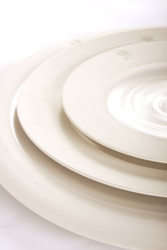 David makes bespoke dinnerware for restaurants and private clients in consultation. Classical in nature, David's dinnerware seeks to enhance the food which will be placed on it, rather than overshadow it.
All pieces consist of reduction-fired, resilient, dishwasher- and microwave-friendly porcelain.
David has made monogrammed sets for individual clients, and will also design your own personal stamp.
View more photographs of
David's bespoke dinnerware here