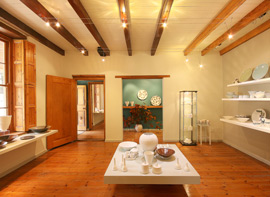 Franschhoek-based South African master potter David Walters, a fellow of the potters association, Ceramics Southern Africa and an icon of the Cape Craft and Design Institute (CCDI), makes wheel-thrown studio ceramics.
He produces stand-alone porcelain pieces, reduction fired stoneware and porcelain domestic ware.
David creates porcelain dinnerware and original artworks in his reduction fired gas kiln. Also to be found are colourful slumped glass, Raku and smoke fired pieces.
All of this work, and more, can be found in the Ceramics Gallery at the Studio. Please browse around the site to find out more.

Yes, I am! After all I turn 67 later this year, so I deserve to stop! I shall retire to Cape Town, where I shall make pottery – but far less than I make now. So my beautiful home is for sale – plus the studio and gallery spaces.
Set right in the middle of Franschhoek, this large property has a big double storey house, dating from the early 1800's, with thick walls, old floors and some Yellow Wood doors. The windows are all sash, some of them new, and we have preserved what we can. There is a four car garage, with a bedroom above, and a small river running through the garden. We are set back one street from the main road, so it's a quiet, beautiful place to live and work.
The downstairs is all part of the business at the moment, with four large galleries, a huge studio, and another big room at the back for the kiln. There is also a loo downstairs – and a place where sales are made. Upstairs one enters the 'woonkombuis', a large sunny room with sitting room area, with a fire place, then a dining room and the kitchen at the other end. All the upstairs rooms have doors out onto covered verandahs, so from the kitchen one walks out onto an area overlooking the street, and the neighbours homes, and up into the mountains behind. From the living room area, one walks out onto a large verandah, where the view is completely private and one looks onto the hills, and down into our large garden, with the stream and all the oak trees. Inside, the next room is a big study, with doors leading to both verandahs, and then a short passage leads to the two bedrooms, each with its own bathroom, and also doors onto the verandahs!
At the back of the home is another separate building, which has four garages, two closed in with locked doors, and two with a roof but otherwise open to the garden. On the top of this garage is a large bedroom for guests, with an en suite shower room and a small kitchen. This room also has the most beautiful 360 degree views seen through the nine large sash windows.
The garden is big with six or seven large oak trees along the river. It has space for growing veggies and lots of room for parking cars. It has many trees, and a great hedge along the road. There is a big lawn, and plenty of space for a pool. It is a private, wild garden, with loads of birds, a truly special place with its own well.
If you are interested – perhaps two potters? –or easy conversion into a B&B
Please contact me on
waltware@mweb.co.za
Or contact my agent Tom Clode on 021 8763322
Cheers, David Walters.
24 Dirkie Uys Street, Franschhoek, Cape Province. 021 876 4304